Even after years of guiding and taking clients out, I still really enjoy going fishing on my own.  Mostly, I enjoy being outside. I love that my office is in nature, the gulf breeze on my face, dolphins playing around the boat.
It's not often that I get to go fishing for myself this time of year, but I still find that same love and enjoyment though taking people fishing.
For the 2021 season, we've moved to 5 hour minimum trips, for a few reasons.  Why?
First and foremost: I don't want to get off the water!  For some that are stuck in the office all day, this is your time to let go. For me, I know that feeling very well coming from a job where I was stuck inside all the time. As a former fire fighter, being on call 48 hours at a time, inside the station, was the norm. One that had me looking forward to the days where I could be on the water where I most felt at home.
Like you, I feel the cabin fever. Winter is bare; you're isolated, and it's cold. When it's cold I only want to be inside in two places: the gym or my house (but, really haha). Once we are outside on the water, what's the rush to get back inside?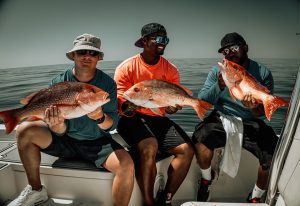 Destin, Florida is a beautiful place with a lot to offer. To start the trip off, we hit up one fishing spot to see what's biting. From there, if you want we can find some dolphins, and then go back to fishing. Whether it's bottom fishing on one of the reefs, or sight fishing for redfish on the beach, playing with blue fish on light tackle, we are still out there to fish. After we have caught a few of those, the water is beautiful – lets jump in.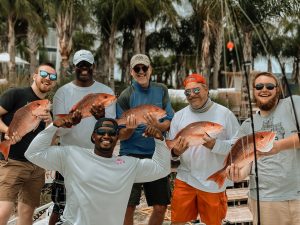 These last several trips have been just that. We have been enjoying the nearshore reefs and the fish that come with, moving on to the beach and finishing with a few dolphin sightings.
A 4 hour charter just wasn't ample time to experience all the Gulf has to offer, in terms of fishing, dolphin tours, and an all-around good time.  5 hours gives us a little more time, without rushing, to ensure you and your family have a trip to remember.
At the end of the day, you've come all this way to get on a boat just to rush back to the dock? Let's enjoy our time on the water.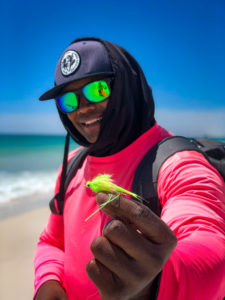 " Stay Solid To your Self and 100 In your heart" – Lionel James