Lions Tale Adventures is made up of a group of individual guides who work as a cohesive unit to make sure you have the best fishing trip possible when fishing in Destin, Florida. Our team is made up of five Captains (Brandon Hillard, Gabrielle Barnes, Sean Cramer, Steve Burks and myself) and we work hand in hand to stay on the bait, bite, and weather to give you the best possible chance at not only a great catch but one of a life time as well. We all work as one sharing information between one another what's biting and where the hot bite is.
In this first month of summer, we all have had some pretty good days on the water (weather permitting). With it being Red Snapper season until July 12th, Capt. Gabrielle with Lady Luck Adventures, who has the most local knowledge out of all us guides, reports that the Red Snapper bite as been outstanding! With the summer getting hotter and the fish getting smarter, she is still fishing in anything over 6 feet of water, utilizing both manmade and natural bottoms. She also advises going to a long leader (6 feet at the minimum), preferably fluorocarbon with any type of live bait.
Capt. Brandon (Got the Hook Up Charters) and Capt. Sean have been on an excellent Grouper (both Gags and Reds) and Amberjack bite while making a little longer run in the morning to get into some deeper waters. Both Captains report that they are catching more Gag Groupers on both manmade and natural reefs versus the Red Groupers, which are more commonly found on natural bottoms. Both captains say they prefer to use a live baits like cigar minnows and pin fish, but they have also caught several groupers off of long strips of bonita. "Keep a top water plug ready when traveling to your first fishing spot, as there will be Bonita everywhere and its always good to have different types of bait with you," Capt. Sean said.
Captain Brandon also suggests that you keep a couple of free lines out while bottom fishing, as the King Mackerels have been a very consistent bite while fishing over natural bottoms. He is using live cigar minnows while trolling.
Capt Steve has been staying offshore as well, pulling in some monster Red Snappers as well as Black Snappers. He has also managed to find some Red Grouper while out with clients, sending home some happy clients. Of course we are seeing Triggerfish and Amberjack bite our there as well, and we are counting the days until those are back in season.
On my side of the water, I prefer to sight fish for redfish and there are plenty of them to be caught along the beaches. This time of year, you might have to find them swimming in-between the patches of June Grass, in the clear pockets of clean water. Typically you'll find several fish in these pockets, and you'll have several shots in each pocket. Even though there is an abundance of June Grass around the clear pockets, the water clarity remains pretty clear. I'm using 3 feet of 15lb fluorocarbon leader with live bait, preferably a cigar minnow or herring. Also while cruising the beach we are seeing schools of Tarpon and more and more are showing up each day.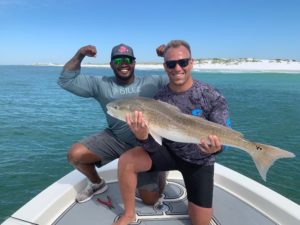 Right now is a great time to get out with any of our guides while the bite is hot. Despite rough waters during the past few weeks, we've been able to do what we can to make sure our clients have a memorable experience on the water with our team. You can read more about all of our team members by clicking here. Tight lines!