Meet Captain Lionel James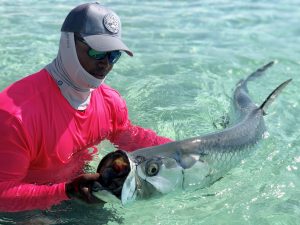 Captain Lionel James grew up partly in Central Florida (Melbourne) where his father taught him to fish the intracoastal waterways, shallow flats and beaches catching Redfish, Trout and Sharks. At age of nine he moved to the Emerald Coast (Destin) where he continued to chase fish on the flats. Three years after moving to Destin he had to once again move, but this move was to the frozen tundra of Anchorage, Alaska, where he honed his fishing skills even further, fly fishing the rivers, streams and seas of the last frontier state.
Now as an adult, Lionel moved back to Florida in 2007 to pursue his fishing goal and become a full time fishing guide and tournament competitor. Lionel learned the ins and outs of the local fishing estuaries and spent every possible minute on the water, learning the fish patterns, locating the pot holes that hold fish and the water movements as seasons and whether changes and all around fish behavior. Lionel is a captain and a professional guide. When not with clients, he spends his days off seeking out new places to fish from his local home base, Destin to Pensacola bays, as well as the back country flats of Panama City.
In 2017, Captain Lionel James appeared on the nationally recognized TV show, Addictive Fishing with Blair Wiggins appearing on Fox Sports and the Pursuit Channel, among others.  Lionel got to show the world the ins and outs of our Choctawhatchee Bay, inshore fishing for Trout and Redfish – his specialty.  At 32,000 online views and counting, you can check out the episode below.
Captain Lionel James would love to be your guide and take you, your friends and family on a fishing adventure of life time! Share with you his years of knowledge and experience, and capture through pictures, the memories of your catches and your smiles for you to have and share.