Born and raised in Fort Walton Beach Florida, Gabrielle Mercado grew up fishing the Emerald Coast's green waters with her father since she was knee high. 
Through her travels, she has gained enough experience to trade some epic fish stories with the best. Whether it's stalking bonefish on the flats of the Bahamas with a fly or catching giant Mekong catfish in Thailand on a chicken thigh, they are stories you won't want to miss.  After years of traveling and fishing in some of the most sought after fishing destinations in the world, she has decided there is no other fishery quite as diverse and lush as Destin FL.
 She has been in the maritime industry for 5 years and while working aboard a navy vessel she attained a Coast Guard issued 100-ton license. Working with the military on a well managed and structured vessel she has gained the knowledge she needs to provide safety for her clients in a professional manner while also showing them to a great time on the water.
She has a wide variety of fishing experience but specializes in near shore wreck fishing and sight fishing the flats for redfish and trout. She is on a quest to show the world that chasing your passion and following your dreams can be both rewarding emotionally and lucrative financially. So throw off the bowlines, sail away from safe harbor, catch the trade wind in your sails and explore, dream, discover, fish, and love.
Click here to see more from her trips on the water!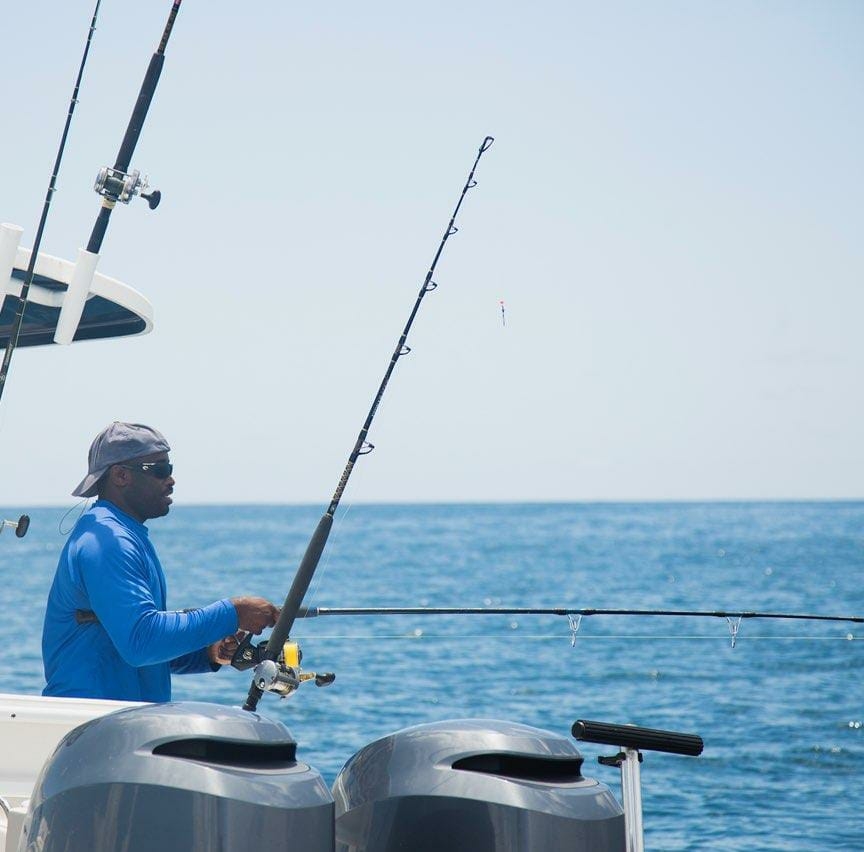 A Texas boy, Captain Steve Burks was born and raised in the city of Temple. He first picked up a rod, reel, and a bucket of crickets with his father Steve burks Sr., who would bring Capt. Steve to the nearby lakes and creeks for fish for Catfish, Bluegill and Brim.  Capt. Steve spent the majority of his childhood fishing and hunting all over Texas.
After graduation, he enlisted in the United States Air Force and is currently on Active status, (10 years). His First Duty Station was Hurlburt Field, Florida where he bought his first boat 8 years ago after him and Lionel went on a deep sea trip in the Gulf of Mexico off the beaches of Destin, Florida.  He knew from then he was hooked on deep sea fishing and wanted to one day give the younger generation what his father gave him, the joy of catching your first fish and the love for the outdoors.
Capt. Steve Burks has been fishing the emerald coast for close to 10 years now and specializes in bottom fishing for Grouper, Snapper, Amberjack, and many species living on our near shore reefs, as well as trolling for King Mackeral, Mahi Mahi, Wahoo and other Pelagic species.
"As your Captain, it is my mission to take you on a fantastic fishing adventure – a no pressure experience with smiles and life time memories on the house." — Capt. Steve Burks
Capt. Brandon Hilliard was born and raised in East St. Louis, IL, starting off freshwater fishing for bass, catfish, and crappie around the age of 5. A member of the U.S Air Force, he became stationed at Hurlburt Field in Fort Walton Beach, Fl in 2009. Soon after, he experienced his first taste of Saltwater fishing and never looked back.
Starting from surf and pier fishing, to inshore/offshore, he quickly learned what it took to master the craft. Offshore fishing has been his passion ever since, with his excursions taking him all over the Panhandle, down to the Florida keys, Louisiana, and even the Bahamas.
Capt. Brandon charters using his SeaHunt 235se. A 24′ center console versatile enough to handle inshore and offshore trips alike. When he's not chartering, he's usually out scouting for new places to fish and discovering new and exciting ways to ensure customer satisfaction. Capt. Brandon is an insured and certified charter captain through the United States Coast Guard.
All licenses, tackle, and bait are supplied through him. Customers of all ages will have a safe, fun, and memorable experience aboard his boat.