Amberjack Fishing Season Destin, Florida
May 1st marks the opening of the 2018 Amberjack Fishing Season Destin Florida, fishing the Gulf of Mexico State waters. The season will be open from May 1st – 31st and will re-open August 1 and continue to October 31st, 2018.
The Greater Amber Jacks (AJ'S) are hands down one of my absolute favorite fish to catch.. it is pound for pound one of they hardest fighting fish out there!
Its a fish fight like no other – lifelong anglers are brought to their knees trying to hold on when they are hooked up with an Amberjack. No matter the age of the angler or the number of Amberjack you have caught, each individual AJ carries an attitude of their own so when you see that rod tip start to bend.. HANG ON!
Here on the Florida Emerald Coast we are lucky to have a healthy population for our Amberjack Fishing Season that can be caught throughout our state waters from a mile of the beach to the 9 mile state water mark. There are plenty of short jacks in close that offer a great fight. The larger, keeper size jacks can be found a little further offshore and the legal size to keep is 34 inches to the fork.
The next question we often get is how to catch them. With a livewell full of pinfish, hardtails, cigar minnows, and or ruby redlips on circle hooks and with egg weights will give you ample amount of chances at catching your one fish limit. Another fun way to catch an Amberjack is free line any of the previous baits listed and on a butterfly jig worked through the water column will produce.
Sometimes undervalued as table fare, Amberjacks have a "very good" edibility rating and can be prepared a number of different ways – grilled, baked, smoked or blackened. The keeper size over 34″ boasts a huge portion of meat so one keeper per person is plenty to feed your family. Bring the whole family, a group of friends, or just a buddy or two – Amberjack Fishing Season Destin Florida really is an awesome time for everyone!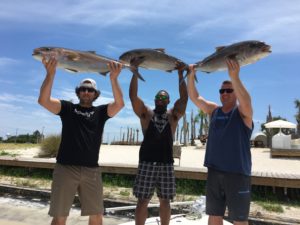 For techniques and How-To videos, stay tuned on our Social Media or subscribe to our YouTube channel!