With a vision and a goal to get more women into fly fishing, the first Women's Fly Casting class in Destin Florida was a HUGE success! 12 women were introduced to the sport through a casting class held at The Gulf Restaurant on Okaloosa Island. Bottomless mimosas were served as the ladies were first shown the fly rods, how to assemble them, and what the different fly line means.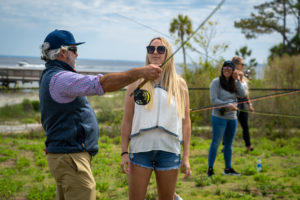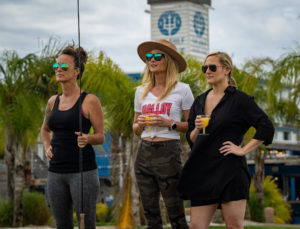 They then got to learn the basics of fly casting in the lawn where they could feel the rod, throw the line, and have some one on one guidance to get a better feel for the sport. After a few throws of line, they all got to catch their first (cardboard) fish! The Gulf was a great location as it had large grassy areas plus a water line that the girls could practice casting into.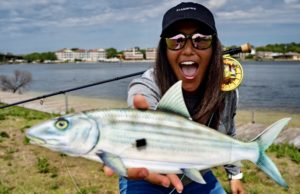 After casting, the ladies stayed for brunch to network, mingle and enjoy the atmosphere of the day. The consensus among the group was overwhelming — It was exciting, fun, and now they're looking forward to casting at some REAL fish.
It was the perfect lead in — Lion's Tale Adventures is now offering fly fishing trips in Destin Florida! We have three options: Offshore Saltwater Fly Fishing on board the Pathfinder, Skinny Water Fly Fishing on a Skiff for a single angler with Captain Kolt, or our newest Electric Bike Fishing Adventure where you can ride the beaches sight fishing for schools of fish. Step 2 after the casting class is to go on a fly fishing adventure to practice your newfound skill set.
The event was a sell out, and such a success that Captain Lionel is planning more to come the rest of this year. Through this event, Lion's Tale Adventures was able to donate over $400 to the Shelter House, a domestic violence safe haven here in Fort Walton Beach. If interested in participating in a future class, send us an email and we will add you to the list to be notified once the next dates are announced!
Huge thanks to our sponsors, Moonshine Rods and To Do in Destin – and of course to our instructors, as we could not have done this without you! We look forward to hosting the next Fly Casting Class in Destin Florida and want you to be a part of it.