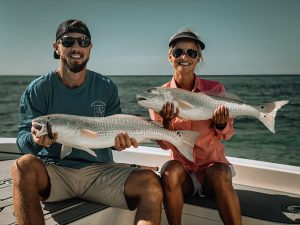 The summer months in Destin, Florida can be a challenging time for any angler, whether seasoned or novice. The heat that comes with it can make it hard to get any fish to bite, let alone get out of the comfort of your Air-conditioned home to tackle the heat!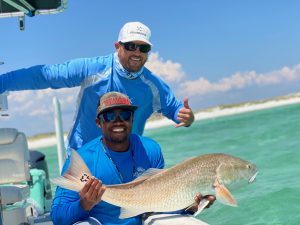 Whats Biting?
Sight Fishing Redfish on Destin Florida Beaches is one of the most popular species to fish for and is easily one of our favorites.
Our team has several group trips every year of anglers coming to Destin, Florida in search of some pretty water and doing some red fishing while they're down on the Emerald Coast. We are a team of guides looking to ensure the best possible experience for our guests and with that, both Capt. Sean and I thought…. "lets go find them on the beach!" We are able to also find sharks, lady fish, and blue fish ensuring a good day and tight lines here in Destin.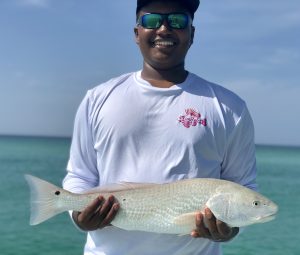 Typically we begin our trips around 6am, but in order to sight fish, we need the sun to be high enough in the sky to cast through the water. This time of year we push our start times to 7am, catch bait the first hour and spend the rest of the trip sight fishing redfish on Destin Florida beaches.
With the Gulf of Mexico being an enormous body of water, the temperatures typically rise slower than the shallow flats. Whether its caused by a sea-breeze, waves or current, water movement is almost always constant on the beach making it the perfect place for bait and predator fish like Redfish, sharks and blue fish to hang out. Like in the bay when the water gets hot, these fish move into deeper (lets say 6-8 feet) water where they can be out of your casting range if fishing from shore. These fish can still be seen in 6-8 feet of water due to the clarity of the water on the emerald coast of Destin, Florida.
How do we catch Redfish on Destin Florida beaches?
There are many, many ways to fish and catch Redfish off the beach; however we believe when fishing multiple boat trips that simplicity is key – do more with less. The beaches of the Emerald Coast stretch for miles and miles and we will have better chance of catching fish by covering more water than staying in one spot waiting for a bite. Whatever point we deem to be point A and point B, Capt and Sean and I will choose one and meet in the middle, covering more water. With constant communication, once one of us find the school we notify the other.
Destin, Florida has some of the most transparent water I've ever seen. Because of this, our must have to catch these fish is the Seaguar' "Gold Label" Fluro-carbon line from 15lb test to 30/40 will suffice. The 30/40lb are more or less for the blue fish and their sharp teeth. With both of us making long cast to the fish we need any and all advantages we can get and having Seaguar's "Gold Label" gives us just that!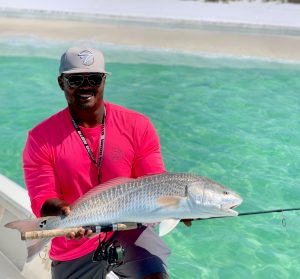 Don't let the summer heat keep you from catching a Redfish of a lifetime. Beat the heat with a Lion's Tale Adventure fishing charter! Chase some Redfish and then dive into the beautiful emerald waters after catching a few!
If you're in the northern panhandle part of Florida and you're looking to catch a redfish or get out in the gulf, checkout our team of guides that will be sure to give you the fishing adventures of a lifetime: one of our very own guides.