March 1st kicked off Triggerfish season in Destin Florida, along with the start of Spring fishing and we are gearing up to get on some fish. It's a popular Spring catch that we're going to learn a little more about today.
In our area, Triggerfish are normally found nearshore and offshore, hanging around artificial reefs and natural bottoms. They share the same habitat as Red Snapper and Gag Grouper, so catching a Triggerfish is usually a sign that additional species are below as well.
Triggerfish are pretty aggressive feeders; a positive if you've set out to catch them specifically, but a con if you were trying to reach the Red Snapper or Grouper they hang around with. Shrimp and any sort of cut bait will do the trick as they typically chase anything they perceive as being food, and a small hook is necessary due to the size of their mouth. They like to hang on the bottom, but will chase your bait as it falls as soon as it sees it.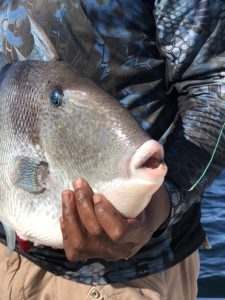 The average size of the Triggerfish ranges from 12in to 20in, with females growing larger. World record was 13lbs, Florida state record is 12lbs. They are a distinctive gray in color and have the ability to change their color while swimming in open waters. The mouth is small but mighty, containing a set of sharp teeth even the most experienced anglers don't want to mess with. Along with the teeth, Triggerfish have a strong jaw that can make a hook difficult to set.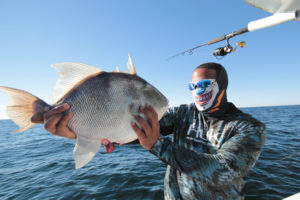 Triggerfish State Water Regulations by the FWC:
Minimum Size Limit: 15″ fork length
Daily Bag Limit: 1 per person
Season: March 1st – May 31st, August 1st – December 31st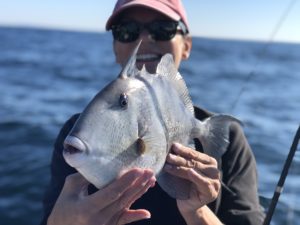 We'll be riding out Triggerfish Season in Destin Florida while we look forward to catching some Bull Reds nearshore as well!