As we wake up from our fishing winter hibernation, one of the first fish to move into their spring pattern are the Sheepshead. This time of year, Sheepshead fishing in Destin, Florida is lucrative.  These fish can be caught in our inshore bay system from the Navarre, Florida bridge all the way to the Mid Bay bridge. In the spring they move from Choctawhatchee Bay into the Gulf of Mexico to spawn. Although Sheepshead can be caught year around here in Destin, Florida, the late winter and early spring is the best time to catch them.
Whats a Sheepshead? Good question! Sheepshead can be identified by their black and silver stripes that run vertically along the body of the fish, oftentimes called a convict fish for their jailed stripped pattern. Outside of their stripes, you can easily identify one by their sheep-like teeth, which is how they earned the name "SheepsHead".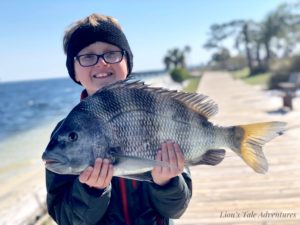 You might be thinking, something that ugly couldn't possibly be good to eat, right? Wrong! When it comes down to it, Sheepshead are one of the highest graded fish to eat, receiving an A+ . Their diet is made up of mainly crustaceans and shellfish such as oysters, crabs, and shrimp, making for a very white and flakey meat that can be prepared whichever way you like – fried, grilled, or blackened, you really can't go wrong.
If you're interested in catching some of these ugly (yet great tasting) creatures, how would you do so? Sheepshead can be a very difficult and tricky fish to catch, and even more so here in Destin, Florida area due the the clarity of our waters.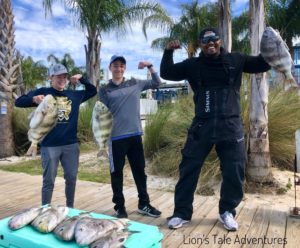 When fishing for Sheepshead throughout the Choctawatchee Bay system and the Destin pass, you'll want to start at one of our bridges near a dock pilling, an oyster bed, and or the jetties. Typically you want to use a Carolina rig (slip sinker to a swivel to a leader to small hook). This is ideal because it keeps your rig at the bottom, close to the structure you are fishing. Sheepshead are not a very aggressive fish, so you must have a lot of patience waiting for a bite. With that patience, you also must be paying attention at all times. Their non aggressive feeding habits mean that you are feeling for any soft bump or tap (almost feels like your weight is rolling on the bottom). It is an extremely subtle bite that will probably be the biggest sheepshead you've ever caught. Don't be afraid to check your bait often, with their bite being so subtle you'll often not know that your bait has taken from you.
Now that you've hooked a few of these bottom feeders, your next question might be where can I have the Sheepshead cooked for me. We get it, let someone else do the dirty work so you can enjoy a tasty meal! Some of our favorite restaurants that offer the Hook n Cook specials are Dewey Destin's or Boathouse Oyster Bar. Each one prices the cook by weight and it comes with sides cooked to order as well.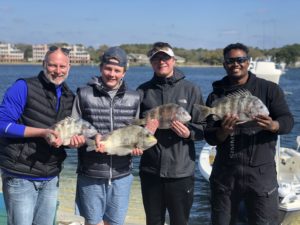 You can fish for Sheepshead on your own from places like the Okaloosa Island or Navarre Beach Pier, the Destin Jetties, or the Destin Bridge.  If you're a novice fisherman and want to take the family out inshore fishing while on vacation, hiring an experienced guide is the best route. Here at Lion's Tale Adventures we provide the fun, laughs, gear and license. Hop aboard with one of our Captains and create your own fish stories to tell.
Lion's Tale Adventures – Whats your story" ?