Red Snapper Season in Destin Florida
Red Snapper season in Destin Florida is officially open for Federally licensed charters from June 1-August 1, with open season for recreational fishing and State licensed charters following close behind from June 11-July 25. Red Snapper have a 2 per person limit, with 16" minimum size for all waters.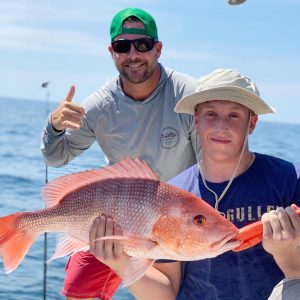 If you're wondering why Red Snapper is a highly sought-after fish, we found that the taste is what draws people in. The white meat is lean, has a gentle, sweet, nutty flavor with a firm texture. Whether baked, broiled, grilled or fried, this mild-flavored fish always delivers a great taste while also being a very healthy food source. Four ounces of uncooked red snapper contain just 110 calories and 1 gram of fat.
They are also a fun catch.  Large Red Snappers will swim in circles and pull, making it quite the fight.  For those fishing for them on their own, it is recommended that a fluorocarbon leader be used as Red Snapper have excellent eyesight and sharp teeth, so the line needs to be invisible in the water.  Find them in depths of 50-60ft and most Red Snappers prefer live bait; they can be caught on dead Cigar Minnows, squid or cut fish by a simple drop in the water.  You can also try chumming them up to the surface with chunked fish. This creates a frenzy for one, and it will also bring them far away from the structures that they may pull you into to cut your line.
If you can't make it to fish during Red Snapper season, you're still in luck. The snapper family boasts a variety of fish that are equally as tasty, with limits year-round.  Vermillion snappers for example are just as tasty, and though they are smaller in size, a limit of 10 per person will guarantee you still come home with plenty to eat.  Mangrove Snapper, White Snapper and Black Snapper are also additional options.
June 1 is also the opening of Gag Grouper season, another delicious fish that anglers set out to find. Those run a 2 per person limit, with 24" minimum size for all waters. Grouper are a beautiful looking fish and are a white meat fish that's equally as tasty.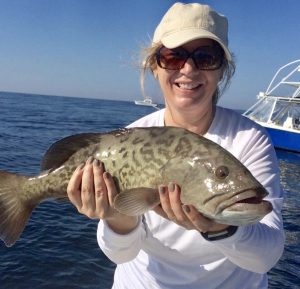 With Destin being the World's Luckiest Fishing Village, we've got plenty of boats offering Charter fishing who love Snapper Season.  What better Father's Day gift could there be than finding and booking one for a day on the water?  Quality time spent with Dad and tasty meal afterwards – sounds like the perfect gift to me.